Remote Address Book
Reference: Address Book Context Menu
Beyond FTP Program/File/Remote Administration Menu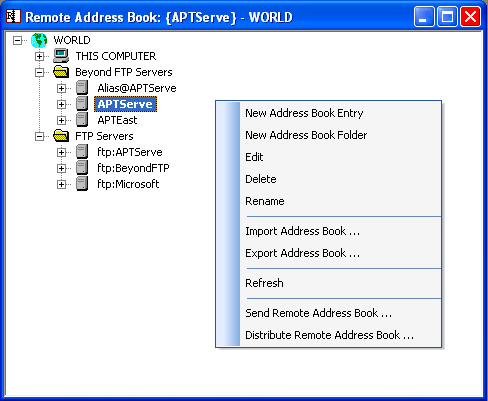 A Remote Address Book is retrieved from the selected server and displayed in a separate window. You must have administrator rights on the remote server to perform this task. You may open more than one remote address book at a time. You can perform all Address Book management functions, and you can drag entries from one address book to another. However, you cannot make a connection to a remote server from a remote address book window.
You can maintain remote address books on a server-by-server basis, or you can distribute the contents of one address book to one or all remote servers. This latter capability is intended for those centralized maintenance situations where servers are cloned, and there is no local content or maintenance. The key thing to remember is that distributing an address book replaces the entire address book at each server involved in the script! There is no attempt to merge address books or adjust them in any way. This can ONLY be used when the remote configurations are truly identical.
Note: You must have full access to the Beyond FTP directory at the remote server. The remote server must be running Beyond FTP version 2.3 or above for this operation to work. In addition, you must know the password, if any, associated with the remote address book.
Warning: The Beyond FTP program should NOT be running at the remote server when this operation is performed. Changes to the address book may be lost!